Link your website to NHHealthCost.org
Help us increase transparency and inform patients and citizens of New Hampshire about the cost and quality of heath care.  
By linking to NHHealthcost.org from your website, you'll be joining a national effort to measure and report the costs of important medical procedures and the variability among providers, so patients can make better personal decisions and professionals can improve the system.
Use the images below to provide this valuable information to your users and bring attention to the costs we pay and the quality we receive for our healthcare.    
For more information on partnerships or technical assistance contact us.
---
Leaderboard
Leaderboards are often used at the top of pages, above content.
Available in two sizes: 728px x 90px & 1456px x 180px
Large Rectangle
---
Large rectangles are common in sidebars. 
Available in two sizes: 336px x 280px & 672px x 560px
Medium Rectangle
---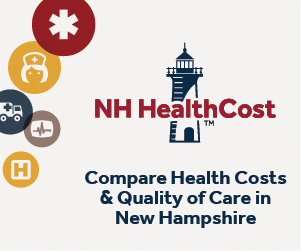 Medium rectangles are another common option for sidebars.
Available in two sizes: 300px x 250px & 600px x 500px
Half Page
---
Half pages are used in sidebars when more of an impact is desired.
Available in two sizes: 300px x 600px & 600px x 1200px
Large Mobile Banner
---
Large mobile banners are common in mobile layouts.
Available in two sizes: 320px x 100px & 640px x 200px
Download Images
While filling out this form is not required to download images, we'd love to know about your interest in using these badges.  If you prefer to download these forms anonymously, solve the Captcha math question and click the Submit button below to gain access to the image files. Thanks!